UpDo, Styling & Wedding Parties Wedding Makeup Mississauga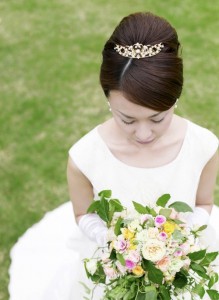 We have the right people to help make your day as memorable as possible. Looking for a stylist and makeup artist? Contact our reception team about booking a complimentary consultation with our team, and let us create the look you have waited
It is 6 months until your wedding day:
This is the best time to have a consultation. In this exciting session, we will touch on the theme you have created for your special day. This will give us inspiration on what to suggest for your wedding makeup and hair look that day. We welcome you to bring in any pictures you may have of wedding hair dos.
It is 3 months until your wedding day:
You have been doing a lot of planning and making a lot of decisions, why not relax and unwind with a series of facial treatments at this time. Our experienced aestheticians will help you choose the appropriate treatment.
It is only 1 month until your wedding day:
Book a trial makeup application with our artist, and a trial updo or style with one of our stylists. Also, book a consultation with one of our colour technicians, who will be able to recommend when you should get your colour or highlights done.
4 days until your wedding:
Treat yourself to a day of relaxation and final touches! This is the perfect time to take some time to relax. We suggest a full-body exfoliation and treatment to ensure your skin is perfectly radiant all over!
Your Big Wedding Day:
At a pre-set time, our team will prepare you and your wedding party with your pre-selected wedding makeup and hair. It will be the beginning of a perfect day. Congratulations!
Reservations
To reserve please call our friendly reception desk at (905) 278-5550 and start experiencing the good life!!!
Gift Certificates
Gift certificates are available for any of our exceptional services. To order gift certificates, call our courteous reception desk at (905) 278-5550.
Make-Up Services At The Make Up Bar
Our main desire to create the beautiful You that is already within you.
Applying make-up for women desiring a new look is what we strive for.  Make-up can only enhance what is already there, so the proper application enhances and brings out the natural beauty that you already have.  Imagine how good you will feel when you look in the mirror and see a more beautiful you.
Service Menu
Trial Hair/Make-Up  from $125 each

Day Of Hair/Make-Up from $150 each

Bridal Hair/ Make-up $400
Engagement Hair/Make-up $300
Airbrush $150
Airbrush Trial $90
*Brides to Be ask about our Pre-Bridal Program today!*

About Vasanti Cosmetics
The company was founded by three Canadian women who recognized that women have different needs when it comes to their makeup. They have embraced an attitude of inclusivity in developing light-weight, easy-to-use products for all women.
From highly pigmented shades to sheer washes of colour, from porcelain foundation to rich warm hues, our colours and formulas beautifully suit all skin types and tones.
Vasanti Cosmetics aims to encourage women to celebrate and enhance their natural beauty.
All Vasanti makeup and skincare products are proudly made in Canada.
Contact us to find out more about Make-Up Services
Contact Us today at (905) 278-5550 and our friendly and knowledgeable staff will answer any questions you might have and be happy to book your appointment so you can enjoy our Make-up Services.