Keratin Treatment Mississauga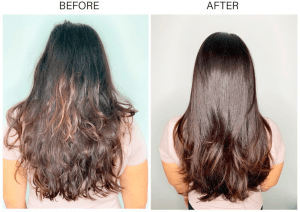 We offer Keratin Hair Treatments that deliver the best results for frizz-free, smooth, shiny, and healthy-looking hair and for all hair types.
Our keratin hair treatments are formaldehyde and aldehyde free for a safe hair keratin treatment that doesn't make your hair completely straight (after washing the hair, to make it straight you will still have to blow-dry it and flat iron it) but it removes the frizz and increases the manageability of your hair, keeping it looking healthy and shiny, with results that last up to 16 weeks.
The newly reformulated, revolutionary Peter Coppola® α-Keratin Repair System™ provides the safest and most advanced hair healing framework available for dry, damaged, colour-treated, over-processed, or frizzy hair.
Formulated to semi-permanently change the texture of all hair types, the α-Keratin™ Smoothing & Refinishing Treatment nourishes, repairs, and shields the hair against the harmful effects of processing, heat styling, UV exposure, and daily styling damage. Thus, for a great Keratin Smoothing Treatment that you will be satisfied with, we use the best products.
This Keratin Smoothing Treatment is designed to allow for straight, smooth, curly, or voluminous looks and styles while providing stronger, age-defying hair.
This hair keratin treatment is free from Formaldehyde, Aldehydes, Parabens, Sulfates, Petroleum By-Products, Petro-Chemicals, Harsh Ingredients, Artificial Chemicals, Is Non-Carcinogenic, & No Animal Testing.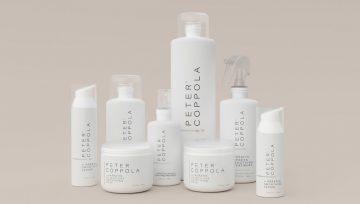 Peter Coppola® products are formulated with a standard that makes no compromise to health or environment to achieve our incredible results. Our unique and holistic products have been specifically designed to help maintain, protect, and extend the results of your α-keratin Treatment. For this reason, the Peter Coppola® α-Keratin line is formulated to contain:
Natural Botanicals, Pure Cold Pressed Essential Oils, Healing Emollients, Premium Ingredients, Is Colour Safe & Defends Against the Harmful Effects of Processing, Heat Styling, UV Exposure, and Daily Styling.
When booking a Keratin Hair Treatment at our hair salon, please keep in mind that the process will take up to 3 hours or more. A complimentary 15 minutes consultation is recommended prior to booking the actual appointment and a deposit will be required in order to book the actual visit.
During the complimentary consultation, one of our hairstylists will assess your hair and be able to explain you how the process works, the approximate duration of your visit, and give you a personalized quote.
As we always strive to perform the best keratin treatment, make sure to follow in detail all of the recommendations that the stylist will give you for post-care.
Make sure to purchase and only use a sulfate-free shampoo for the whole 16 weeks after the keratin treatment, it will ensure the best results and extend them to the fullest and longest.
Please, after the treatment, it is necessary to NOT wash your hair up to 3 days, but for at least 48 hours, to ensure the keratin it is fully absorbed in the hair fibre.
To book your complimentary consultation for your Keratin Treatment, please call directly 905-278-5550
Apart from keratin treatment, Dolce Vita also offers a range of hair services that you can opt for. These hair services include balayage, hair cutting, wedding hair and makeup, hair extensions and more. You can rest assured your hair will be taken care of and you will go home with amazing results!